VOA AFFILIATE MEMBERSHIP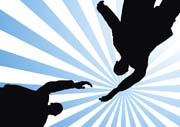 In appreciation of vendors' support of Virginia optometry, the Virginia Optometric Association is offering a special membership benefit opportunity.  We're confident you'll find the investment in the new VOA Affiliate Membership valuable and cost effective benefits, and give you much deserved recognition.
An Affiliate Member of the Virginia Optometric Association is a business or organization who takes an invested and supportive interest in the profession optometry may be granted membership as an Affiliate.
These members shall be those who have created a business partnership which is consistent with and supportive of the purpose of the Association so that the Affiliate Member may better serve Active members of this Association.  They shall enjoy all privileges of the Association as may be determined by the Association's Board of Trustees and shall have the privilege of serving on committees of this Association as non-voting members.  An Affiliate Member shall not have the privilege of the floor at annual and special meetings of the Association, and not have the right to vote, hold office or serve on the Board of Trustees of this Association.  No such member shall be licensed or eligible to be licensed in a profession related to the delivery of eye and vision care services.
Application for Affiliate Membership
As a VOA Affiliate member you'll receive the following member-only benefits:
Receive VOA Annual Conference & Trade Show exhibitor materials one month prior to non-members, ensuring early choice selection for exhibit booth location and sponsorship opportunities  
Detailed Membership Roster in Excel, including doctors' office address, fax, phone and email, updated and provided quarterly… for use in marketing and maintaining client base information 
Copy of VOA Newsletter (quarterly) keeping you informed of activities affecting Virginia optometry 
25% discount off Website Advertisements
One promotional blast email per year to all VOA members
Pre-Registration List for VOA Conferences two weeks prior (must also be an exhibitor or sponsor of Conference.) 
Free Listing on the VOA Website, including Virginia sales representative's name, link to website and contact information
Special recognition during VOA Annual Trade Show 
Opportunity to serve on most VOA committees as an ex officio member
General advice on issues surrounding Optometry and the practice of Optometry